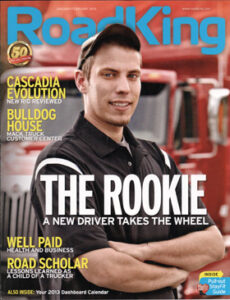 Lee Johnson, a former Tennessee Truck Driving School Student, recently made the cover of RoadKing magazine. Lee was the subject of their feature story for the first edition of 2013 in an article called "The Rookie".
Lee graduated our program and went to work for US Xpress and has been with them ever since.
Lee's success, while fantastic, is certainly not unique for TTDS students. In fact, TTDS maintains a 100% successful job placement program. Every single student that has graduated our three week course has left our school with a fantastic job waiting for them.
Our students have job placement opportunities with trucking companies like Averitt, TMC, Werner, US Xpress, Boyd Bros, McElroy, Schneider and many more.
The time to start a new career in the transportation industry is now. In an effort to recruit and retain more and better qualified drivers, trucking comaonies are paying more than ever and offering better home time options than ever before.
Dont let opportunity pass you by. Call now, speak to one of our career specialists and begin to see the postive career changes available to you in the transportation industry